Joggernauts
Jog! Jump! Switch!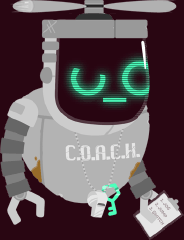 A switching game about not killing your friends
Jog! Jump! Switch! Coordinate the crazy conga line of alien athletes in this autorunner / puzzle platformer for 1-4 players. Press Kit ›
Features
Colorful Chaotic Co-op Switching
Switch places at just the right time to beat color-coded levels.
Work together as a team. No jogger left behind!
Co-op that's actually cooperative.
It's got Single Player, too!
You Jump for Two!
You Switch for Two!
You Coordinate the Two!
Your cat watches. (Cat not included)
It's like patting your head and rubbing your belly, but you're jogging.
Easy to Learn, but Deceptively Difficult
Only 2 buttons! How hard can that be?
Difficulty modifiers to play faster, slower, safer, or danger...er.
Mind-bending action puzzles that hate you.
Story!
There is one!
With a robot.
And a ton of really great music!
It's got a Funny Funny Joke (Limit 1).
And super secret secrets to find!
And trophies to collect.
...in space.
Space Mace
Space Mace is a Minneapolis-based independent game studio that believes games should be played with friends on the couch, not alone on the toilet.